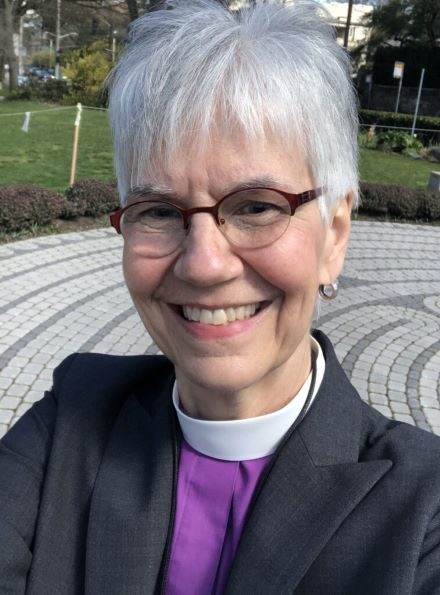 The Most Reverend Melissa Skelton is the Bishop Provisional in the Episcopal Diocese of Olympia. The diocese voted to place itself under the authority of Bishop Skelton at the Diocese of Olympia's 2022 Diocesan Convention.
Bishop Skelton has deep ties to the Diocese of Olympia, previously serving as the rector of St. Paul's Episcopal Church in Seattle and as the Canon for Congregational Development and Leadership for the Diocese of Olympia. During this time, she developed and launched the College for Congregational Development, which continues to this day and is currently hosted by eight dioceses across the Episcopal Church. In 2013, Bishop Skelton was elected 9th Bishop of the Diocese of New Westminster, The Anglican Church of Canada. In 2018, she was elected Metropolitan of the Ecclesiastical Province of British Columbia and Yukon, making her the first woman in the Anglican Church of Canada to hold the position of Archbishop.
Before her time in the Diocese of Olympia, Bishop Skelton served as rector of Trinity Episcopal Church in Castine, Maine, while also serving as the Executive Director of a land trust. Prior to this, she was Vice President for Consumer Products and Community Engagement at Tom's of Maine, Vice President for Administration at The General Theological Seminary, and Brand Manager at The Proctor & Gamble Company. While at General Seminary, she served as the Director of the College for Bishops.
Bishop Skelton holds an MA in English from the University of South Carolina, an MBA from the University of Chicago, and an M.Div. from Virginia Theological Seminary. Additionally, she completed a certificate in Organization Development at the NTL Institute for Applied Behavioral Science. After retiring from the Anglican Church of Canada, Bishop Skelton returned to the Diocese of Olympia to serve as Assisting Bishop. She is married to the Rev. Eric Stroo, a mental health counselor and a deacon in the Episcopal Church. Between them they have three children and five grandchildren.