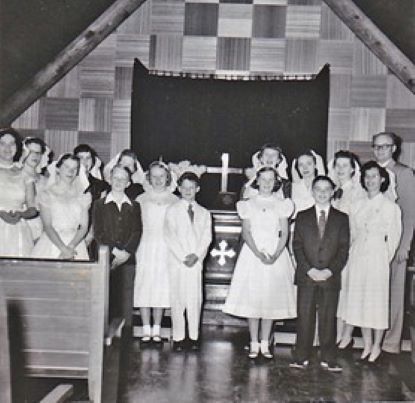 Before World War II, there were no Episcopal churches on Whidbey Island, which lies in Puget Sound northwest of Seattle.  During the war, the Navy established a seaplane base in the small farming town of Oak Harbor on the north end of the island.  After the war, as Navy aviation grew, the base expanded dramatically, bringing many military families to the area and rapidly increasing the population of Oak Harbor (now the island's largest town).
Beginning in 1952, several young Navy spouses who had grown up in the Episcopal Church began talking about establishing a parish in Oak Harbor.  Bishop Stephen Bayne met with them, and soon thereafter St. Stephen's was organized.  (Legend has it that the parish was named after the Bishop.)  As of January 1, 1954, Bishop Bayne declared St. Stephen's to be a mission church of the Diocese of Olympia.  It became a full parish on November 6, 1977.
In the ensuing years, the church grew steadily and by 1991, St. Stephen's had more than 200 members.  To accommodate that growth, it has built three different sanctuaries on the same plot of land it has owned since it began.  The first A-shaped building (now the office and chapel) was constructed in 1954.  The second sanctuary (now the parish hall) was built in 1960.  And the third sanctuary, which we use today, was erected in 1982, including a lower floor for classrooms.
From the 1970s to the early 2000s, as social and other changes divided the wider church, St. Stephen's became an epicenter of those divisions.  As tensions grew in the congregation in the mid- to late-1990s, more than 100 members left to join other churches in the area.  In 2004, about two-thirds of the remaining parish members, then numbering about 80, voted to leave the Episcopal Church and place themselves under the oversight of a breakaway Anglican bishop in Brazil.  The other one third – by then only about a dozen or so – called themselves the "Faithful Remnant" and endured harassment, loss of friendships and other disrespect during this time. 
Eventually, they were even turned away from worshipping in the main sanctuary.  But they hung together by meeting in homes and then in the tiny All Saints' Chapel in the original 1954 building on the campus.  A covenant signed by the breakaway Anglicans and the then-Bishop of the Diocese of Olympia allowed the Anglicans to remain in possession of the main sanctuary and most other areas of the St. Stephen's campus until June 2014.
In 2007, when Gregory H. Rickel became Bishop of the Diocese of Olympia, he made it a top priority to resolve this intolerable situation at St. Stephen's.  With his determination and help, the breakaway Anglicans finally left the St. Stephen's campus in 2014 and established their own church in Oak Harbor, where they remain today.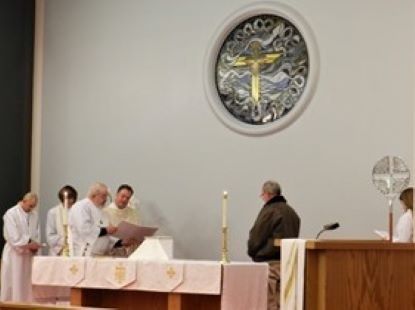 The "Faithful Remnant" of Episcopalians regained their church in an emotional "homecoming" service that year, and ever since the congregation has worked tirelessly to renew itself, restore and repair the campus buildings and grounds, expand its community outreach and raise its visibility to become known as the most welcoming, inclusive, open and accepting church in the area.
After the return in 2014, St. Stephen's implemented a number of programs and activities, including an active Godly Play (Sunday School) program for children, a nursery and a community concert program.  The parish also continued its popular Sunday adult education program, featuring speakers on a variety of theologically related topics.  Attendance at Sunday services grew and indeed exceeded expectations.
In January 2019, St. Stephen's celebrated its 65th anniversary with a well-attended parish dinner.  Later that spring, St. Stephen's welcomed the Rev. Peter H. Rood as its new Rector.  Peter and his wife Christen Herman quickly became integral members of the parish community.  Christen, a professional singer, added her voice to the music of Sunday services.  Under Peter's leadership, the Vestry offered use of the parish hall to SPiN Café, a local volunteer, a local volunteer agency serving our homeless and very poor neighbors in Oak Harbor, as a location for evening meals.  In 2021, SPiN began using the hall as a daytime drop-in center five days a week.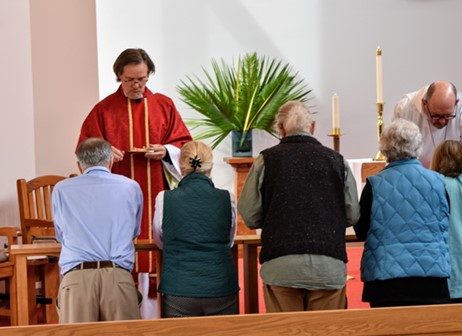 On March 8, 2020, St. Stephen's conducted its last in-person worship service in the church building for over a year, due to the COVID pandemic.  In compliance with directions from the governor of Washington and from our Diocese, Sunday services were limited to Morning Prayer and homilies delivered on Facebook and the church web site.  Coffee hours were held via Zoom technology.  The Morning Prayer and homilies were conducted primarily by our Rector Peter with the assistance of his wife, Christen.  Retired clergy and other parishioners filled in as needed.  Then, on November 8. 2020, tragedy struck.  Christen suffered a severe brain aneurysm, was comatose for several weeks and passed away in February 2021.  All of St. Stephen's mourned her loss.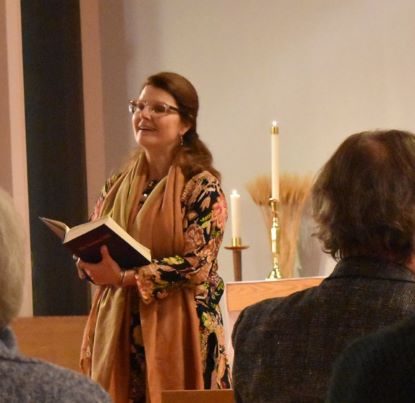 Peter was granted an extended leave of absence and ultimately decided to retire, effective June 30, 2021.  Our retired clergy members, William Seth Adams, Amy Donohue, Mary Green and Diana Peters, and our licensed worship leaders, Tom Johnson, Harry Anderson, and Jeffrey Neuberger took over the celebration of Morning Prayer and homilies.  We held an outdoor baptism for our youngest member, Lily Brooks, in July 2020.  Our first in-person Sunday worship in over a year was held outdoors on the church lawn on Easter Sunday 2021, and on Sunday June 13, the parish returned to in-person worship in  the church building, following masking and social distance guidelines.
As they have traditionally done in every crisis throughout the history of St. Stephen's, our parish members stepped up in support of the church throughout the pandemic.  The parish budget increased from $103,000 in 2018 to $147,000 in 2021, with pledge income increasing each year through 2020 and remaining at the 2020 level in 2021 despite the pandemic closure.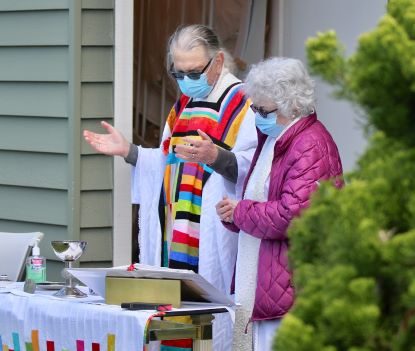 To read a full history of our parish, please click here St. Stephen's Full History